Student and Graduate Opportunities
Penn Highlands Healthcare offers opportunities for individuals, college students, and graduate medical students who are looking to advance their everyday experience and gain valued skills in their profession. We are doing our part to make sure families today – and in the future – get the care they need. We are helping to train tomorrow's medical staff through our programs.
Certified Clinical Medial Assistant
Penn Highlands Healthcare offers a 14-week Certified Clinical Medical Assistant program through Brockway Center for the Arts & Technology. This program is dedicated to ensuring that the students are equipped with the knowledge and skills needed for success. This accelerated program requires at least one year of working within a physician's office to learn billing and other office processes. If an individual is unable to meet the requirement of one year in a physician's office, Penn Highlands Healthcare offers the opportunity for individuals to work as a Patient Service Representative. This one year will allow the individual to receive the experience needed and to qualify for a future class.
Learn More
Summer Nurse Internship
The Summer Nurse Intern Program provides students with an opportunity to relate nursing theory to clinical practice. Our program is open to both sophomores and juniors and offers you the opportunity to work directly with a trained preceptor, 1-on-1! Our program is designed to aide our interns in developing time management skills, problem solving techniques, as well as gain experience and confidence in performing technical skills during a six week period.
Join Our Student Community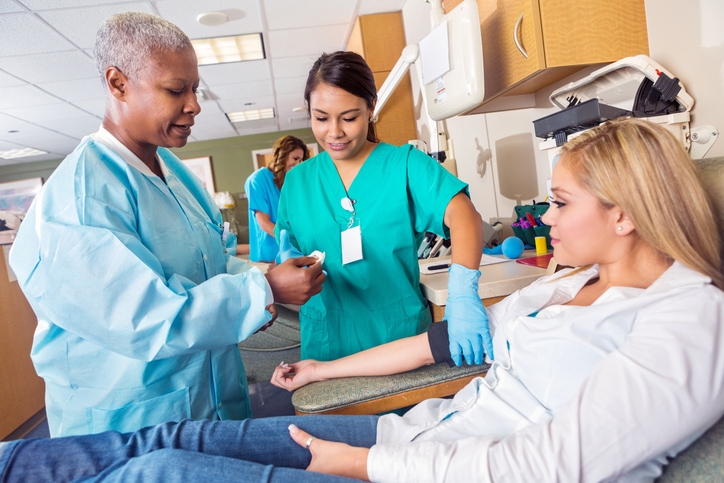 Medical Imaging - Radiography Program
Penn Highlands Healthcare and Mount Aloysius College has partnered together to design a radiography program for aspiring Radiologists. This program ensures that students are prepared to perform diagnostic radiologic examinations needed to begin their career as a radiologist. A unique, hands-on educational approach allows for an exceptional balance of liberal arts and technical coursework. With a small classroom environment, classes and clinicals are held within 45 minutes of DuBois, Pennsylvania.
Learn More
Surgical Technologist Program
Surgical Technologists are vital members of the surgical team. Mount Aloysius College and Penn Highlands Healthcare joined together to create an exceptional opportunity for aspiring surgical technologists. With this affiliation there is opportunity for education funding and employment with Penn Highlands Healthcare. This two-year program consists of online and in-person courses at PH DuBois.
Learn More
Student Rotations
Penn Highlands Healthcare offers opportunities for visiting students and residents to rotate through our various clinical departments. During rotations, students work closely beside our trained medical staff. Rotations are available for:
Pharmacy/Pharmacy Tech students
Phlebotomy students
Nutrition students
Imaging students
Nursing students
Physician Assistant students
Nurse Practitioner students
Anesthesia students
Physical Therapy students
Occupational Therapy students
Speech Language Pathology students
Learn More
Return to Work Residency
Are you a nurse who has been out of the field but have been thinking about returning? Do you know of a family member or friend who took time off from being a nurse, but would like to go back to work? Penn Highlands Healthcare is now offering a Return to Work Residency to assist bringing nurses back into the workforce.
Family Medicine Residency
On a daily basis, the families living throughout our Central Pennsylvania communities rely on the care of family medicine physicians. This medical residency program offers opportunities for rotations and one-on-one time with attending physicians. It helps family medicine residents get the inpatient and outpatient training they need to prepare to meet the demands of rural health care.
Learn More
Psychiatry Residency
Here at Penn Highlands our Psychiatry Residency Program offers a one-to-one experience with the attending physician. We offer specialized inpatient and outpatient programs for children and adolescents, adults and for the geriatric population. We see patients from a diverse population with varied diagnoses. Our Psychiatry Residents Program is supported by Lecom and we are ACGME accredited and HRS approved. You will also have the unique opportunity to influence the building of a new program.
Learn More
Hear From Our Team
I'm a first year resident here at Penn Highlands and I'm originally from Queens, New York. My transition from being a medical student to a resident here it was pretty seamless. As with any transitions, there's obviously a huge learning curve but the people here had honestly made my transition as easy as possible. This program has really strong inpatient and outpatient curriculum so you can basically make what you want out of your three years here. If you want to be a hospitalist, you want to work in primary care outpatient, you want to do a fellowship, this program will train you to do any of those things.

Kishi Patel, DO
I think when you're applying into residency you should choose something first and foremost that you're very passionate about. For me, it was Family Medicine and I believe that the Family Medicine Program here at Penn Highlands is second to none. I would say that here at Penn Highlands, we are provided a ton of opportunity to pursue anything that we want to go into within Family Medicine and that we have a ton of support that allows us to do so.

Grant Schirmer, DO
I decided to take this class, after turning it down two times before because I could become part of the clinical team in my current office. This program has been a wonderful learning opportunity. The teachers and staff of Brockway Center for Arts and Technology are top notch. They really put their heart into teaching you what you need to know to further your career as an MA. It has been nice to meet and learn with new people from different departments in PHH. I am very grateful for this opportunity to advance in PHH. I encourage anyone that might be eligible for this opportunity to take the chance

Ann Coder, CMA
I feel very blessed that Penn Highlands has afforded me this opportunity to get paid my wages while attending Medical Assisting school. I have always dreamed of being a nurse so when this opportunity came up, I enrolled in the program. I know that an MA isn't a nurse, but it's the next best thing! My favorite part of the program is one on one learning with exceptional instructors. I am able to gain the knowledge and skills in 14 weeks.

Elizabeth Konkle, CMA